Private Speedboats in Phuket – Book One of Our Getaways Today!
Tiger Marine Charter has introduced Private Speedboat Phuket Tours
With their exciting brand NEW award winning AXOPAR 28 Speedboat
Limpopo Speedboat for up to 5 passengers
LIMPOPO is our new award winning Axopar 28 Cabin Speedboat, which can take up to 5 passengers. We offer an introductory price for the first season at 39,500 THB for the whole day for your Private Speedboat Charter Phuket.
A half day cruise is also possible, either morning or afternoon, at 27000 THB
The full day cruise is 8 hours from  9 am to 5 pm, or variations to suit you.
The half day cruise is 4 hours from either 9 am to 1 pm, or 2 pm to 6 pm.
The Private Ppeedboat Phuket is a brand new Axopar 28, which has won many awards at European boat shows. This is a very comfortable boat and has a cabin with an opening roof and sides which will give you protection from sun wind and rain if you need it. Seating for 5 on the soft leather seats in the cabin, so 4 passengers plus the Captain.
There is a V-berth in front for sitting underway or a for a shaded lunch while at anchor - this converts into a big sofa bed for the sun worshipers. There is also seating behind the cabin.
The engine is a brand new powerful Mercury 300 cruising at 32 knots (max speed is 50 knots)  She is fast and comfortable, very different to normal speedboats. A unique aspect is that there is a toilet too, very rarely found on any private speedboat Phuket.
On board LIMPOPO Private speedboat, you have towels and snorkel equipment for adults and children, as well as fishing gear.
Included in the price for your private speedboat tour :
Transfers from, and back, to your hotel
Unlimited soft drinks and chilled bottled water
6 beers per adult
Welcome drink and cold towels on boarding
Crew of two, Captain and Engineer
You may bring your own alcoholic drinks, with no corkage charge.
On a half day charter, other than fruit and packet snacks, no food is on board.
On a full day charter we can put on a picnic lunch, or reduce your price by 300 THB per head and take you to a lovely rustic waterside restaurant for your lunch, where you can choose what you like according to your budget.
Not included in the price
National park fees, typically 300 THB per adult, 150 for children
Crew gratuities are not included in this rate
Drinks or food in waterside restaurants
Limpopo On Board Toys
We are the ONLY Charter company in Phuket that can offer these toys with a speedboat!  
Fishing gear
Floating sofas
Floating Jacuzzi
Snorkelling gear including the new full face masks and a Snuba set!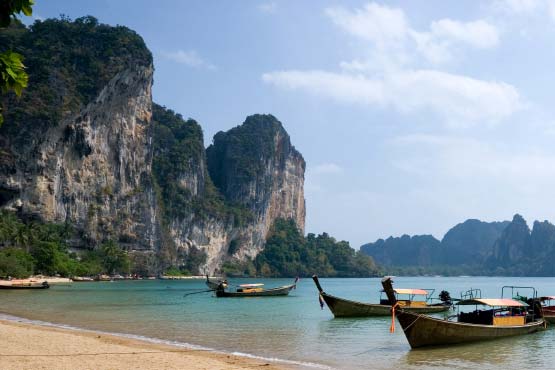 We offer a choice of five cruising routes
Route 1 - Maithon Island
We have just introduced the Maithon island route.
This is by far the MOST POPULAR ROUTE CHOICE
We take you straight to Maithon island where the waters are clear and the snorkelling good and there is a pod of dolphins there. Following this we cruise north to Chockdee island where there is a lovely rustic restaurant on a private island. This is great stop and you can have lunch there rather than taking the provided lunch and we will reduce the price by 300 THB per head and you pay for your lunch.
If there is time we will do another stop at Rang Yai island too, where there is a beautiful white sandy beach.
Route 2 - Phang Nga Bay and Krabi
You will tour the famous limestone outcrops and hidden lagoons, then on to the lovely islands in the Krabi area.
On this route, you will view the James Bond Island, and many other beautiful islands, and have the opportunity of hiring kayaks and exploring the hidden lagoons and caves of Ko Hong Phang Nga. You can also visit the gypsy village on stilts at Ko Panyee. The beautiful islands of Krabi have pristine white sand beaches and very clear water, ideal for snorkeling.
You can call in for a drink at the typical Thai waterside restaurant -  Laemsai, a delightful out of the way restaurant which can only be reached by boat.
Lunch options , we put a picnic lunch on board or take you to the Paradise resort
Route 3 - Four Islands
This private speedboat Phuket charter will take in four islands -  Rang Yai, Chokdee and the Kai Islands and Maithon
. These are all very pretty islands, with lovely beaches and opportunities for swimming and snorkeling.
Route 4 - Phi Phi Islands
Although the Phi Phi islands are famous, we do not recommend this one. The fact that Phi Phi is now so well known, means it has become overcrowded with speedboats and day-trippers, and has lost it´s attraction, because of this. But of course it is available if you want it, and there will be an extra charge of 8000 baht because of the long distance.
Route 5 - Your Choice!
We are very flexible, and you can make your own itinerary, to suit yourselves. We can discuss this before your private speedboat Phuket, to make sure your ideas are feasible within the time frame, and to offer any advice.
Lunch Options:
With all the above routes, our crew will serve your picnic lunch in the shade of a lovely island beach, or on board Limpopo
OR WE WILL REDUCE THE PRICE BY 300 THB PER HEAD AND WE TAKE YOU TO A RUSTIC RESTAURANT WHERE YOU MAY CHOOSE AND PAY FOR YOUR OWN LUNCH
It is your day and we will tailor every single charter to meet your wishes. You can choose where you want to go, and how long you stay there. All the above routes, except Phi Phi, are also available on a half day charter, with obvious limitations on distance.
What we are offering is a private speedboat tour for up to 6 people and an exhilarating day out on the waters and surrounding islands of Phuket.
To book a private speedboat tour in Phuket with us E-mail HERE or call 089 8664401 , From Overseas +66898664401
What we are offering is a Luxury private speedboat tour for up to 5 people and an exhilarating day out on the waters and surrounding islands of Phuket
To book a private speedboat tour in Phuket with us E-mail HERE or call 089 866 4401, from Overseas +66 (0)89 866 4401