The SHANGANI yacht can accommodate up to 60 guests on a day-cruise and our cruising area around Phuket is arguably one of the most beautiful spots in the world. We cater for groups of all sizes and offer an exceptional service for various celebrations on board – whether it be a Stag Party, Wedding Party, Birthday Celebration or Corporate Event, we offer an unparalleled level of service.
The Cruise Itinerary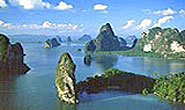 The cruise generally starts at about 9am or 10am and returns at around 6pm. These times however are flexible and can be changed to suit your preferences. You may choose to set sail from either the Boat Lagoon or the Ao Po Marina in the northeast of Phuket. Cruising from the Boat Lagoon will take you down a river with mangrove swamps on either side. The cruise will take us around the Naka Islands or Rang Yai Islands and on to the "SECRET BEACH" for lunch, beach games, sports and partying. There will be plenty of opportunities for swimming and snorkeling around the Kai Islands where the water is crystal clear and teeming with colourful tropical marine life
Hotel Transfers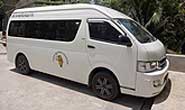 Your hotel transfers are complimentary – our staff will arrange for you to be picked up from your hotel in minibuses or our own Tiger Marine bus and take you directly to the marina where the Shangani will await you.
The Crew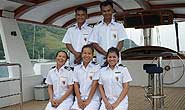 The Shangani's expert crew includes the Captain, First Mate, Deck-hand, Hostess and Chef. For larger groups an assistant chef and extra hostess will also be on hand. Our fully trained and experienced crew will ensure your every need are catered for.

Welcome Drinks
Upon boarding you will be offered a Welcome Drink, Cold Towel, and Delicious snacks, freshly prepared by our 5-star chef.
Beach Barbecue Lunch
The day charter includes a delicious beach barbecue with a Thai buffet lunch on our 
SECRET BEACH
in Phang Nga Bay. We provide everything you need for the perfect day out and our unique location ensures your party will have the beach exclusively to yourselves.
Lunch or Dinner
THAI STYLE
Tom Yum Goong
with prawns and lemon grass •
Red Chicken Curry • Green Prawn Curry • Masaman Chicken Curry
All the above served with Jasmine Rice
Singapore stir-fry noodles
with
Indonesian Spiced Chicken
ON THE BARBECUE - BBQ
Fresh Fish and Squid • Sausages and Peri Peri Spicy Chicken • Fresh Fruit  • Ice Cream
•
Mango & Sticky Rice
THE BAR
We offer a wide selection of beers and wine, and a
COCKTAIL
maker by request.

Beach Entertainment
We have a wide variety of fun beach games and sports available: ● Floating Jacuzzis ● Water trampoline and slide ● Bucking rodeo bull ● SUPs – Stand Up Paddles ● Kayaks ● Football ● Volleyball ● Frisbee ● Badminton ● Table tennis These are all included in the day-cruise price, but further activities can be organized by our staff such as; jet-ski hire, wake-boarding and water-skiing and speed boat trips around Phang Nga Bay.
Music
We have a wide selection of music for all tastes on board the SHANGANI or you may bring your own I-pods, I-phones or other devices to plug into the sound system we have on board and at the beach – Spring is nature's way of saying, "LET'S PARTY!"


Our SECRET BEACH CRUISES are only available from October to May due to prevailing winds, however there are many other island options available – please contact us for details.